From Shelf Awareness: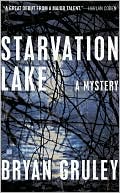 Starvation Lake
by
Bryan Gruley
, a paperback original published by Touchstone, has been chosen by the Great Lakes Independent Booksellers Association as its first Great Lakes, Great Reads pick.
The program aims to "promote exceptional titles and authors of regional interest," for which the association will provide information, publicity and point of purchase materials, including stickers, bookmarks and shelf talkers. GLiBA also will help publishers organize author tours and events and make signed copies available to stores. GLiBA said that this effort "will create a win-win-win situation for all involved and lead to higher visibility and sales for titles selected."
GLiBA plans to name one to three picks per month, including fiction, nonfiction and children's books. Publishers may nominate titles. A brochure describing the program is available at the
GLiBA website
, along with more information about the picks.
Just published,
Starvation Lake
is a debut novel set in northern Michigan by the Chicago bureau chief for the
Wall Street Journal
. It's already hit the Heartland Indie Bestseller List and is an Indie Next pick for March.
Matt Norcross, McLean & Eakin Booksellers, Petoskey, Mich., wrote: "Starvation Lake is a Michigan town that doesn't have much to cheer about these days. Perhaps that is why they make a legend of their most winning hockey coach, Coach Blackburn. Gus Carpenter had Blackburn as a coach and he'll never forget it, just like he'll never forget the goal he let in at the State Championship years ago. But when Coach Blackburn's long lost snowmobile washes up on the shores of the wrong lake many old mysteries float to the surface with it. The deeper Gus digs the more he'll learn the past isn't always the way we remember it. Gruley has hit the nail on the head and driven it home with perfect dialog and atmosphere that will give you the chills in this exciting debut."