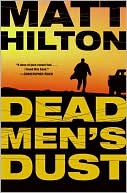 Dead Men's Dust by Matt Hilton
Matt Hilton's debut book Dead Men's Dust featuring vigilante, Joe Hunter, received a 5 star rating by Armchair Interviews, the web-based book review site. This is what Julie Faille Earhart had to say:
Meet Joe Hunter. He's a new kind of action hero, or maybe anti-hero, depending on your point of view. Joe claims that "some people call me a vigilante. I'd rather think of myself as a problem solver."
In Matt Hilton's debut thriller,
Dead Men's Dust,
Joe is out to solve all the problems. His half-brother John is missing and it's up to Joe to find him. John is known to be a bit of a scalawag. His vice is gambling. Joe and John's estranged wife are sure that his gambling has gotten him into a lot of trouble. Again.
John has left for the States, and Joe leaves England, not too far behind him. Joe has a friend in Florida, Rink, a friend from the old days Joe spent as a Special Forces counterterrorism agent. Together, they follow John's clues cross country (most notably through Little Rock, Arkansas) on their way to Marina Del Ray, California.
Also traveling cross country is Tubal Cain, one of the most vicious serial killers I have ever read about. Tubal likes to collect souvenirs from his victims–a finger, a thumb. He's one scary dude.
The book's chapters alternate between Joe and Rink and Tubal, keeping me on the edge of my seat. When the three finally start to meet, you can expect twists, turns, bombs, and bullets for starters.
Two quotes from Joe led me to want to read
Dead Men's Dust.
When asked what the most important lesson he's learned from his experiences, Joe said, "At its most basic level, civilization shares one undeniable truth: the scream of a victim sounds the same the world over." Scary, huh? The other quote is Joe's basic philosophy of life: "You don't hear the bullet that kills you."
Dead Men's Dust
is the first in the Joe Hunter series. The next one has a tentative title,
Judgment and Worth
. If it's half as good as
Dead Men's Dust,
I'll be glued to the couch the minute I get it.
Armchair Interviews says: This 5-star read is a series to watch.