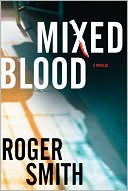 Movie rights to debut author Roger Smith's MIXED BLOOD have gone to GreeneStreet Films (NYC) with Samuel L. Jackson attached to star and Kelly Masterson (Before The Devil knows You're Dead) to write the screenplay. Active negotiations are underway for Phillip Noyce (Patriot Games, The Bone Collector, The Quiet American) to direct. Via Jody Hotchkiss at Hotchkiss & Associates.
About the book:
An American, hiding out in Cape Town, South Africa,
after being blackmailed into a bank heist back home,
is building a new life for his pregnant wife and young
son, when an incident of random violence sets him
on a collision course with street gangs and a rogue
cop who loves killing almost as much as he loves
Jesus Christ.
Praise for MIXED BLOOD:
"A classic wrong-man-in-the-wrong-place thriller."
– Booklist
"A gripping thriller that follows believable (if sometimes
grotesque) characters along a desperate rush to ruin.
Highly recommended."
Ron Terpening
-
Library Journal
"Smith offers a gritty tale of corruption and vengeance
set in South Africa in his absorbing debut. His taut
prose bodes well for future thrillers from his pen." -
Publishers Weekly