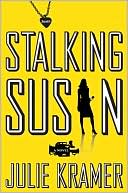 Julie Kramer's
Stalking Susan is a finalist for the
Simon & Schuster
Mary Higgins Clark Award.
The Mystery Writers of America gives the award to the book most closely written in the Mary Higgins Clark tradition, according to the following guidelines:
• The protagonist is a nice young woman whose life is suddenly invaded.
• She's self-made and independent, with primarily good family relationships.
• She has an interesting job.
• She is not looking for trouble–she is doing exactly what she should be doing and something cuts across her bow.
• She solves her problem by her own courage and intelligence.
• The story has no on-scene violence
• The story has no strong four-letter words or explicit sex scenes.
STALKING SUSAN is set in the desperate world of TV news, where a reporter discovers a serial killer is targeting women named Susan, killing one on the same day each year.

The winner will be honored at the
Edgar Symposium's Agents & Editors Party April 29
in New York.